Welcome to Switchgreen Energy Limited
SwitchGreen Energy Ltd. is the exclusive Nigerian partner for the reputable A/S Logstrup-Steel Denmark. A maker of industrial low-voltage panels and switchboards since 1958. Although we are new in the Nigerian electrical installation market, SwitchGreen builds on the quality and experience of our exemplary Scandinavian partner. We design, construct, install, and maintain custom low voltage panels using Logstrup modules. From individuals with ambitious projects to larger organizations and governments. Our modular systems are flexible enough for all clients, including heavy-duty, and demanding applications. Logstrup's modular systems feature 2-mm steel profiles and meet or exceed the IEC 61439-1/2 standards. Our business is making them directly available to Nigerian businesses.
Our focus is to assemble and distribute large-scale, ambitious projects; for individuals, corporate organizations and governments. And as such we try to reduce financial risks and improve decision making by ensuring safe delivery of right-priced goods and services. We are in partnership with A/S Logstrup-steel Denmark Read more
We are number #1 in electrical installations, switchgear, control panels and distribution of Logstup modules in Nigeria.
INDUSTRIAL DEMANDS
Energy control lies at the very foundation of human civilization. As it helps man to adapt and gain an advantage over his environment. Good energy management is inevitable in maintaining a functional society because a reliable power supply is critical. SwitchGreen employs Logstrup's low voltage modular solutions that are fully customizable across brands. The system is thoroughly tested and is one of the best low-voltage solutions in the market. It is a valid option for high-impact industries, government projects, Hospitals, Hotels, and other demanding environments.
SWITCHBOARDS
---
SwitchGreen is the distributor of Logstrup switchboards and switchgear in Nigeria.
Switchboards direct electric current from one or more sources to sub-distribution channels. Your requirements will determine the design, including the number of panels, components, and size of your custom switchboard.
Our switchboard designs conform to the highest standards. And this helps to maximize their uptime and lifespan, leading to a low cost of ownership in the long run.
SWITCHGEAR
---
Motor Control Center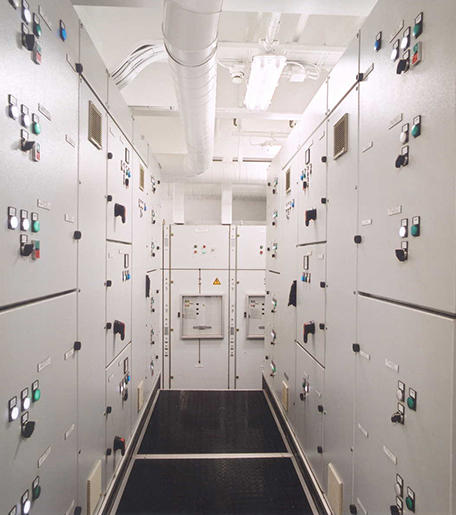 Motor Control Center
Our MCC or Motor Control Center offers a central location to house the components that control all the electric motors that power your machinery. The MCC combines transformers, panelboards, and switchboards, depending on your needs.
Other components generally include fuses, motor starters, circuit breakers, and indicator lights. Our experienced engineers will work with you to determine your project's needs. Then, implement the right solutions.
Control Panels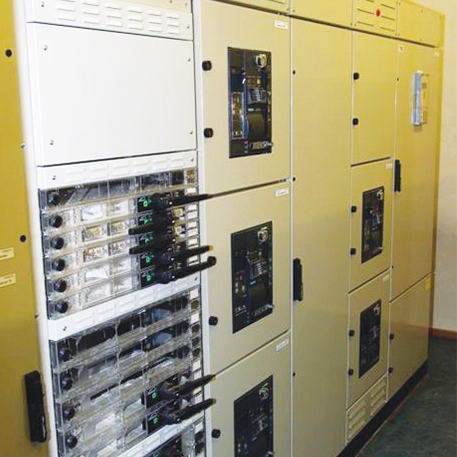 Control Panels
SwitchGreen offers all of Logstrup's control and process panels for your industrial applications.
The standard panels have an IP54 ingress protection rating. But you can also opt for custom-welded IP65 cabinets with dust and water ingress protection. These are available in black and stainless steel variants.
All our panels meet or exceed the IEC 61439-1/2 international standards for control gear assembly. They are tested accordingly to ensure quality and durability.
We also include detailed documentation with your control panels. This usually features arrangement drawings, parts lists, wiring diagrams, programming, operation, and maintenance instructions.
Distribution Panels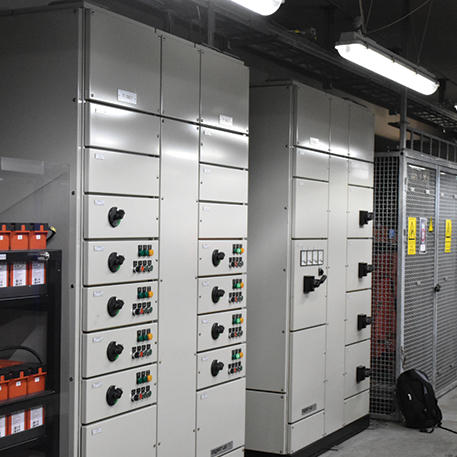 Distribution Panels
A distribution panel channels incoming power into smaller circuits while protecting the circuitry with a fuse or breaker.
Our distribution panels range from 63A to 8500A, with short circuit levels up to 165kA/1 sec.
SwitchGreen is your reliable Nigerian partner for designing custom distribution panels to power your unique applications using Logstrup modules.
Integrated Container Solutions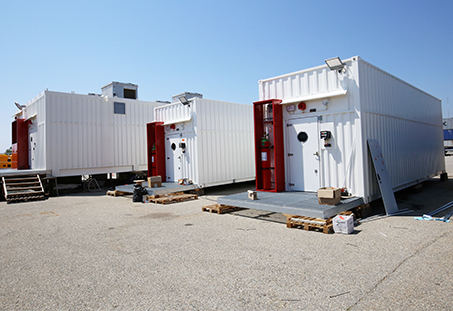 Integrated Container Solution
SwitchGreen also provides integrated container solutions or e-houses for your various projects. These containerized solutions are perfect for sites where little setup time is needed or the environment is challenging within Nigeria and beyond.
The containers get customized to your needs or specifications. They can include control and distribution panels, a UPS system, climate control, and other components that your project requires.
You can also decide on the e-house size, colour, window, and door dimensions. Or on the flooring, insulation, and other special needs.
Our Partnership
Get in touch today!
Ready to start your project? Give us a call or send an email. We will promptly get back to you.
Contact us